Weekly Lunch, BINGO and other FUN Senior Programming!!!!

St. John's Church in Hebron (9812 St. Albans St.) hosts the Salvation Army Golden Diners (meals for seniors and their caretakers) every Friday from 11 - noon. These hot, nutritious meals are open to all seniors and their caretakers, there is a free will offering to help of-set the cost, suggested offering $3.50.

Wednesday: St. John's is now offering Mid-Week Services every Wednesday at 7pm.

Friday:
9am Tai Chi & blood pressure readings
9:30am Bingo (prizes and cash prizes from Bingo pot (free will offering))
11am Salvation Army Golden Diner Lunch**
11:45am Miscellaneous programming (games, activities, crafts)

**To reserve your meal please call 630-232-6676 a few days before you plan to join us.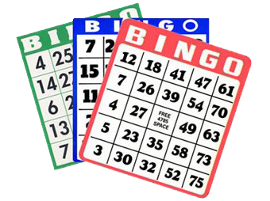 <![if !vml]>